Traumatic Brain Injury in the Age of COVID-19
Are Patients With Traumatic Brain Injury More Susceptible to the Harmful Physiological Effects of COVID-19?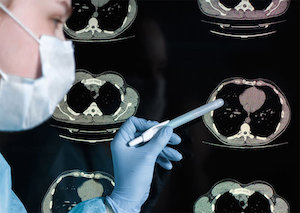 The 2020 COVID-19 outbreak took the world's interconnected public health communities by storm. No agency was properly equipped to deal with an outbreak of a virus that virtually no one knew anything about.
As the pandemic has continued, more and more research has shed light on exactly how COVID-19 works inside the body, what symptoms it produces, and the mechanisms by which it replicates and spreads.
Furthermore, we now have a better understanding of the various long-term health impacts of the Virus, which we now know can last long after the initial symptoms subside. This is of great interest to traumatic brain injury victims and the tbi attorneys who represent them.
In particular, scientists have developed a better understanding of COVID-19's impacts on the brain. In this article, we'll explore what the research so far says about the risks that this Novel Coronavirus poses to patients with traumatic brain injury (TBI).
COVID-19 and Brain Damage
Since the early stages of the outbreak, medical researchers and frontline healthcare workers have reported widespread instances of permanent or semi-permanent organ damage in patients admitted to the hospital with extreme symptoms.
While most of the initial clinical interest in organ damage caused by COVID-19 focused on the lungs due to the dramatic and highly symptomatic effects of this deadly Virus on the lungs, researchers have now begun to better understand how it can harm the brain as well.
One study looked at the causal relationship between COVID-19 and brain damage. The research shows that COVID-19 patients with "severe" cases are prone to long-term brain damage.
COVID-19 an Inflammation: A Serious Concern for TBI Survivors
The medical community has long understood that unchecked inflammation causes many of the symptoms of TBI. Over extended periods of time, the systemic inflammation often observed in TBI patients puts them at risk of developing complications from their brain injuries months or even years after the initial traumatic event.
This means that patients recovering from TBI must remain vigilant about encountering any situations that might trigger an inflammatory immune response, including viral infections. Preventing exposure to unknown pathogens against which we have no immunity is even more important.
COVID-19 is devastating in terms of its potential to massively ramp up system-wide inflammation as part of the body's natural immune response to attempt a defense against an unknown virus.
The most widely reported inflammatory response triggered by the Virus is the so-called "cytokine storm" in the lungs. In these scenarios, inflammatory cells called cytokines flood the lungs and cause a feedback loop wherein inflammation is ramped up continuously and the patient's condition deteriorates.
Now, thanks to evidence in the form of brain imaging of COVID-19 patients, we know that COVID-19 triggers similar inflammatory processes in the brain – bad news for traumatic brain injury survivors.
In the coming months and years, we'll likely begin to see more research specifically aimed at gathering data on the relationship between TBI and COVID-19. In the meantime, TBI patients and their families should take extra care to avoid unnecessary exposure to the Virus while better therapeutics are developed.
Client Reviews
No Fee Unless You Win
Fill out the contact form or call us at (617) 620-0857 to schedule your free consultation.