Bike Accidents on the Rise in Massachusetts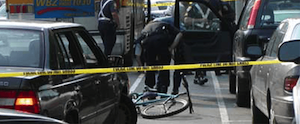 Massachusetts is home to scores of enthusiastic bicyclists who enjoy riding for work, exercise and play, but the increasing frequency of bike accidents is disturbing. As a matter of fact, Boston had more cycling fatalities per 10,000 bike commuters than Denver, Minneapolis, Portland, Seattle, and Washington, D.C., among cities of comparable size where bicycle travel is common in a 2014 study. Biking is a viable way to get around town for many people thanks to its affordability, health benefits, and low cost on the environment. Unfortunately, these benefits are sometimes mitigated by the risk of injury resulting from a collision with a fellow biker or motor vehicle.
I have watched with concern as bike accidents & fatalities have risen for several years, with an initial surge being noted by the Boston Globe in 2014 story. The author of that article notes that part of the reason for the increase in injuries is a simple increase in the overall use of bikes to get around the Boston area. College students and recent graduates are increasingly turning to bikes as a result of limited public transportation mbta late night weekend service cancelled and lack of accessible parking.
Massachusetts has made strides in bike safety over the years with the inclusion of new bike lanes and public resources for cyclists to learn from (Boston Bikes). Unfortunately, this does not mean bicyclists are safe. Boston alone has seen thirteen fatalities from bike accidents in the last five years. Story
My experience with the families and victims of bike accidents has made me care deeply about this issue. I believe it is crucial that all bikers in Massachusetts follow all possible safety precautions. Every biker should be wearing a helmet at all times when on a bicycle. Nobody should ever bike while under the influence of alcohol or other drugs, as well as only biking when fully awake and alert. Stopping at all stop signs and making clear turn signals with your hands while on the road will greatly decrease the risk of a collision.
I hope to see Massachusetts turn the corner and become a safer place for cyclists. Biking is an environmentally conscious and fiscally responsible mode of transportation that should be encouraged. Other states such as New York have shown us that this goal can be achieved. 2014 Top 50 Bike-Friendly Cities.
Client Reviews
No Fee Unless You Win
Fill out the contact form or call us at (617) 620-0857 to schedule your free consultation.