The Elderly and Traumatic Brain Injury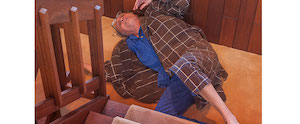 Brain injuries to seniors are on the rise in United States, a recent study has found. The U.S. Centers for Disease Control and Prevention reports that adults aged 75 or over have the highest rate of hospitalization and death from TBIs.
According to the Massachusetts Department of Public Health, a traumatic brain injury (TBI) is typically caused by blunt or penetrating trauma to the head. It found that most victims who suffer a moderate to severe TBI experience significant physical and behavioral, psychiatric, cognitive and medical problems.
As a result, functional independence, living skills and community access were found to be diminished, particularly when the victim of a TBI is elderly.
Falls and TBIs
The CDC study found that the rate of hospitalization and death to seniors suffering a brain injury is six times higher in senior adults over age 75 than people aged 65 to 74. Considering both age groups, falling causes 81 percent of all TBIs.
The most recent ascertainable numbers for Massachusetts follow. According to the Massachusetts Department of Health and Human Services, in 2012, there were 840 deaths, 5,879 hospitalizations, 2,213 observation stays and 67,397 emergency room visits for TBIs involving Massachusetts residents.
Given our aging population, these numbers have certainly increased.
First and Second Injuries
Seniors are suffering TBIs at dramatically higher rates than 25 years ago. Although all of the reasons for this increase aren't clear, it's obvious that more elderly people are living at home and suffering TBIs from slip-and-falls and trip-and-falls.
Much like a football player who returns to the sport too early after a concussion, brain damage from a TBI can significantly increase the odds of another fall and a more severe TBI for a senior citizen.
Regardless of that fact, head injuries from falls often go unreported by the elderly. If they are reported, many victims minimize the physical and mental consequences of the fall out of fear of restricted independence.
Preventing Seniors From TBIs
We all know that as seniors, we're going to experience deteriorating vision, balance problems and other medical issues, but there are precautions that that we can take to help prevent falls.
1. An exercise program focused on strength and balance would benefit anybody.
2. Remove items from home that you might trip over or slip on.
3. Talk with your pharmacist about whether the medications that you're taking cause sleepiness or dizziness.
4. Make the shower safer with grab bars, or even use a shower chair.
Care must be taken with any TBI, especially if one is suffered by an elderly person. Awareness and prevention are critical. A second TBI can be catastrophic.
Client Reviews
No Fee Unless You Win
Fill out the contact form or call us at (617) 620-0857 to schedule your free consultation.